Blake Dowling: TikTok cringe
I received some texts this summer from friends asking me about TikTok.
Is it bad? Should we use it?
Short answers. Yes (in my opinion), and no.
This is not new info. If you are an avid reader of Military.com you can go all the way back to 2019 where our military banned the app on government-owned phones.
This week several Florida lawmakers (U.S. Reps. Neal Dunn, Matt Gaetz among others) jumped on the bandwagon and are now calling for the app to be banned.
Why so nervous? The company that owns TikTok, ByteDance, is a Chinese company (according to Business Insider).
The Chinese government requires each tech companies to share all data with them, that's the rub.
Millions of Americans could be unknowingly sharing their info with the Chinese government.
However, the potential unwelcome news on the app doesn't stop there.
There are also concerns about predators going after kids by way of TikTok, and our friend Sen. Lauren Book and her team from nonprofit Lauren's Kids put together a public service announcement this month that should be a wake-up call to everyone.
As we all know, kids are home now more than ever; they are spending even more time than usual engrossed in online behavior. So, the likelihood of a negative interaction online increases greatly.
What's the upside, then? You can create videos set to popular music and easily edit them. Translation: There is no upside, if you want to minimize risk, then there is no need to have it at all.
However, if for whatever reason you are unable to win this parenting battle, make sure all privacy settings are engaged so only people you "know" can see your videos versus having it wide-open.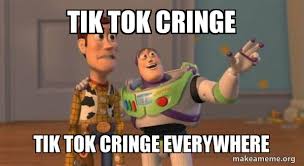 In the Sunshine State, we have more to worry about than the kids. Apparently, adults in Florida have problems with the app. A law enforcement officer outside Vero Beach and his wife made headlines this spring with their offensive videos posted on the platform. The officer was suspended.
Making short videos is a thing, I get it. I remember Vine; yes, I had an account and my videos were amazing; so was the guy named Nicolas about the mad money and the gummy worms. Hilarious.
Thankfully, that Vine creation still lives on YouTube. This used to be a family favorite (you can thank me later):
Back to TikTok, when the negative issues outnumber the positive; you (and your kids) need to walk away. Be safe out there, as it is not just the U.S. having issues with the app, the entire nation of India banned the app completely, too,
Getting these things off your phones is just smart, especially if you work in any part of the process, law enforcement or anywhere sensitive info is stored (just about everywhere and anywhere these days). If you need something to take up your time you can learn more about Second Harvest putting food on people's…


Read More:Blake Dowling: TikTok cringe